Key Takeaways
Hurricane Sandy is the most destructive and costliest hurricane ever recorded in New Jersey, inflicting $37 billion in damages.
Accelerating sea-level rise and storms are putting our state's coastal areas at risk.
The Nature Conservancy is using nature-based solutions like restored marshes and living shorelines to help communities address storm hazards.
Hurricane Sandy: 10 Years Later
At 7:30 p.m. on October 29, 2012, Hurricane Sandy slammed into New Jersey head-on, seven miles north of Atlantic City, with winds of 80 miles per hour and a 14-foot wave surge.
The storm inflicted $37 billion in damage to New Jersey—more than half of the $70 billion impact to the East Coast—and was the most destructive and costliest hurricane ever recorded in our state.
Sandy's devastating effects were a sobering wakeup call to prioritize protection efforts for the beloved Jersey Shore and commit to making our coast more adaptable and resilient to environmental challenges.
Nature plays a big part in that plan. In fact, studies show that healthy coastal wetlands prevented $430 million in additional damages in New Jersey during Hurricane Sandy. And these natural areas not only shield communities during bigger storms, but they can also ease "sunny day" nuisance flooding and erosion issues that plague many of our shoreline towns during routine weather events and high tides.
In the 10 years since Sandy made landfall, TNC has been testing and studying how marshes, living shorelines, oyster reefs and other healthy natural habitats can best be leveraged for their protective benefits to coastal regions. Results point squarely to their value in making communities more resilient while also supporting wildlife and adding visual appeal to the landscape.
Testing Natural Solutions
What benefits can natural solutions like restored marshes, oyster reefs and living shorelines offer to coastal communities? TNC is testing different nature-based projects, measuring results and advocating for more widespread replication of successful tactics.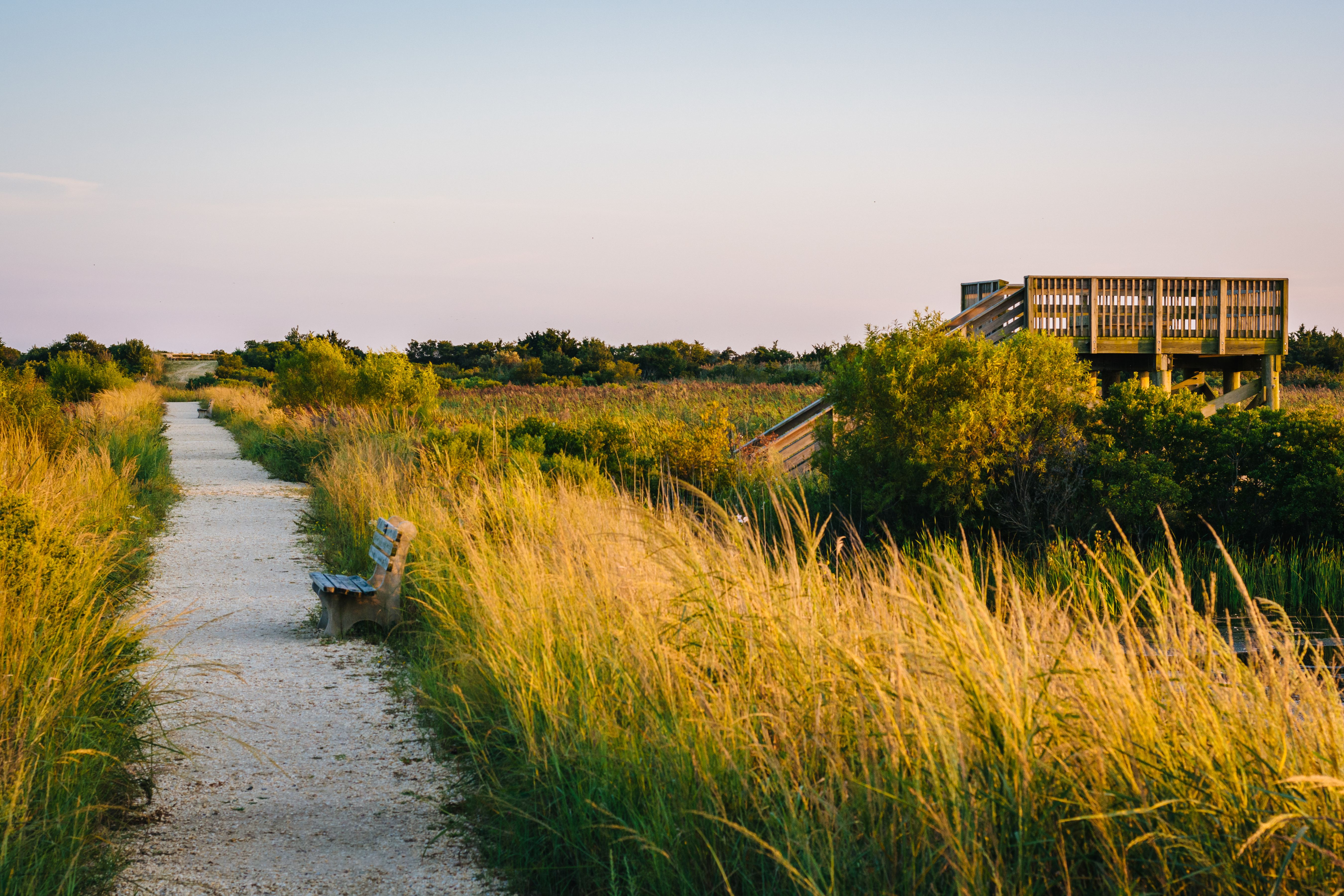 South Cape May Meadows
The observation platform on the east trail provides elevated views of the preserve's freshwater ponds.
©
Shutterstock
South Cape May Meadows Preserve

From the mid-late 1800s to the 1940s, South Cape May was a populous vacation town complete with hotels, tourist attractions and a railroad. Over time, storms eroded the land, and a deep-water canal built offshore intensified the advance inland of the Atlantic Ocean's salt water. By 1944 the town was fully abandoned, and for the next 50 years, South Cape May's natural systems wore down and failed, worsening community flooding. 
TNC protected the property, now the South Cape May Meadows Preserve, and in 2007 restored the site. Today the revitalized nature preserve boasts healthy dunes, reconnected freshwater wetlands with an innovative water management system and one mile of protected sandy beach.  
The restored site served as a model for the protective role of nature during Hurricane Irene and Superstorm Sandy while providing year-round wildlife, economic and social benefits.
Graphics and charts with data on money saved from potential damage from Sandy due to surrounding natural systems. Includes numbers on value of recreation, $11 million in revenue annually due to money spent by visiting birders. Takeaway: every dollar invested in preservation returns $10 in nature's services like flood control and filtering of air.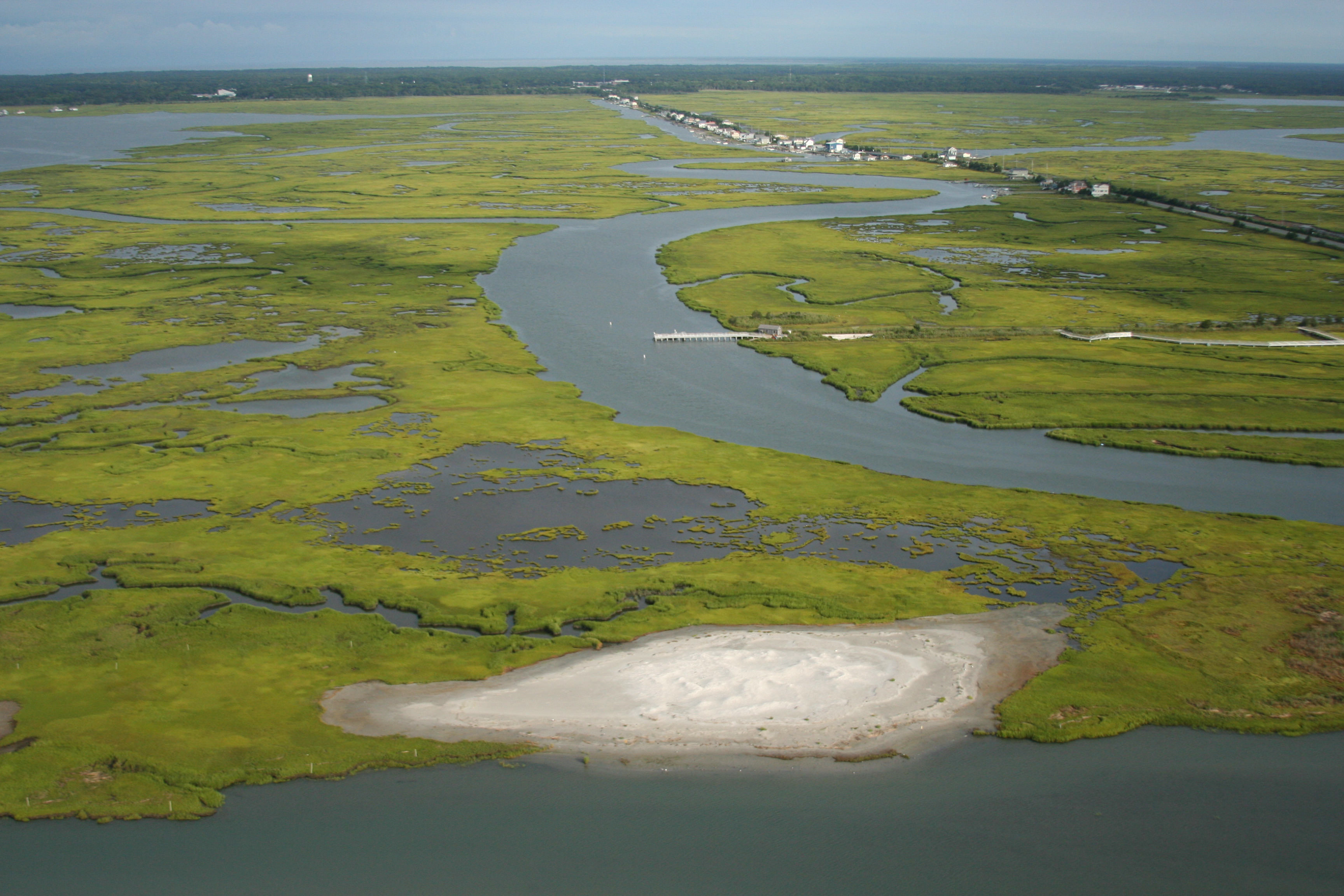 New Jersey Salt Marsh
Coastal conservation projects help New Jersey salt marsh habitats stand up to a rising sea.
©
TNC
Salt Marsh Makeovers
Coastal salt marshes are extremely productive habitats, and New Jersey has more than 200,000 acres of them. They are home to many fish, crab and bird species; they drive economies through recreation and fishing industries; and they protect people's homes and livelihoods from changing climate conditions by storing carbon and slowing down waves.
Studies have shown that coastal wetlands prevented $430 million in damages in New Jersey during 2012's Superstorm Sandy. But accelerating sea-level rise is causing many of our precious salt marshes to drown. 
TNC and partners have piloted projects to give struggling marshes a boost. The process involves spreading a thin layer of clean sediment dredged from clogged local boating channels over the terrain to give native grasses space to take root.
TNC and partners piloted this technique at three locations in Southern New Jersey: Avalon and Ring Island in Middle Township on the Atlantic Coast and Fortescue on the Delaware Bay. 
Because results from both sites have been promising, with marsh plants returning in 3-5 years, TNC is advocating for the technique to become a go-to solution for New Jersey's coastal estuaries.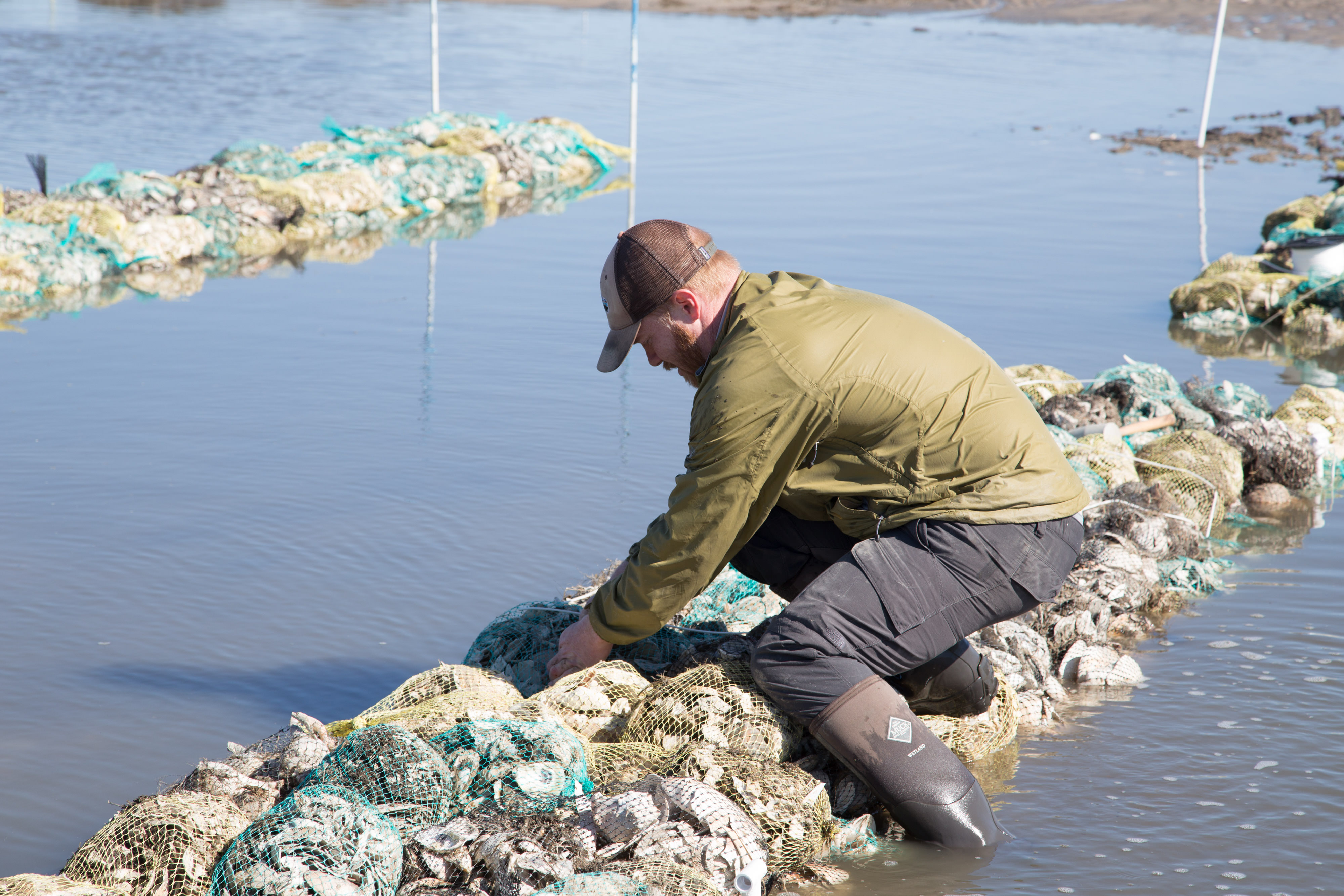 Gandy's Beach
TNC conservation staff are installing oyster reefs at Gandy's Beach in southern New Jersey to combat flooding and other impacts of climate change.
©
TNC
Living Shorelines
Gandy's Beach is a TNC preserve along an area of undeveloped shoreline on the Delaware Bay that provides valuable habitat for a variety of fish and wildlife. Its shore has been increasingly vulnerable to coastal erosion and was considerably impacted by storm surge from Hurricane Sandy.
In 2015 we installed a half-mile-long oyster reef breakwater at Gandy's Beach to combat erosion and create habitat for marine life. The structure in the Delaware Bay was the first of its kind in New Jersey! The project was supported by $880,000 in Sandy resilience funding from the National Fish and Wildlife Foundation.
Metrics from the project's design and performance—including oyster colonization, water filtration, erosion conditions and aquatic species measurements—is informing the best use of living shorelines up and down our state's Atlantic coast. 
Online Insights
Working with partners, TNC created the Restoration Explorer, a free website portal offering resources and tools for evaluating coastal management options. The site empowers users with modeling and mapping functions, engineering criteria and insights about real-world conditions to inform decisions about where shoreline enhancements are needed and what project types are most suitable for various locations. 
Building Coastal Resilience 
Nearly half the world's population—some 3.5 billion people— lives near coasts. As climate change exacerbates the effects of storms, flooding and erosion, the lives and livelihoods of hundreds of millions of those people will be at even greater risk.
Nature makes communities more resilient to the impacts of climate change; reefs, dunes and marshes break waves, absorb storm surges and blunt winds, greatly reducing risk to people and businesses.
Our goal is to mainstream the role of nature and nature-based defenses as tools to reduce risk from storms, floods and sea-level rise and to promote and scale up investment in these solutions for climate adaptation.