There is no greater threat to the future of the planet or to the mission of The Nature Conservancy than climate change, and it influences everything we do. The commonly held objective among the scientific community is to limit global warming to less than 1.5 degrees Celsius to prevent the worst global outcomes for nature and people.
We are committed to meeting this threat head on by implementing solutions that will enable our ecosystems and communities to mitigate and adapt to climate change. Mitigation means that we reduce greenhouse gas emissions that cause global warming. Adaptation means that we implement solutions that will make our ecosystems and communities more resilient to the adverse effects of climate change.
 
Opportunities for Climate Action
There is exciting momentum in 2022: Congress recently passed the Inflation Reduction Act (IRA), the most significant climate change legislation in our nation's history, that will significantly reduce the climate threat while unlocking the promise of innovative, cleaner industries and the jobs that come with them. 
These policies include: investments and incentives to support new and existing technologies that expand the availability of clean electricity, make our factories less polluting and promote the use of clean cars, trucks and transit; direct investments in our forests and farms that enhance their capacity for storing carbon, increase their climate resilience and reduce wildfire risk; incentives to help U.S. companies compete when producing advanced energy technologies and cleaner manufacturing processes.
Additional policies also recognize that the costs of climate change are inequitably experienced and make direct investments to improve local air quality, lower energy costs and expand access to clean energy in communities that are most affected by and least able to respond to the impacts. Other policies will help energy communities and workers better manage the transition to a clean energy future. For example, enhanced tax credits under consideration could accelerate development of renewable energy on former mine lands and brownfields.
Help Us Keep Nevada Resilient
Your support can help advocate for policies that help ecosystems and communities.
Donate
Climate Action in Nevada
A Historic Climate Opportunity for Nevada
Here in Nevada, this whole suite of policies means significant economic benefits. To find out just how much, The Nature Conservancy turned to BW Research Partnership, an independent economic research firm. We asked them to analyze the economic impacts of the $370 billion in federal investments created by the set of policies in the IRA, including clean energy tax credits, infrastructure investments, transportation and building electrification investments, and reforestation and conservation grants. We looked at jobs created annually over a 10-year period, compensation, taxes and the return on investment for each federal dollar spent.
In Nevada, the anticipated $4 billion in federal climate investments will sustain 5,200 jobs annually for 10 years, with almost half of these jobs coming from the Agriculture & Forestry sector. More than $445 million is generated in value added each year for 10 years from these policies, with $231 million in employee compensation and $62 million in local, state and federal taxes annually for 10 years. 
That's a decade of families able to make a living from cleaner energy and innovative industries. That's a decade of our local and state governments diversifying their revenue streams. And a decade of investments that will make our air cleaner and prevent the pollution causing climate change. Read the full report here.
Economic Impacts of Federal Investments
5,200

jobs created for 10 years

10

years of jobs created

$445M

in value added generated in 10 years
Download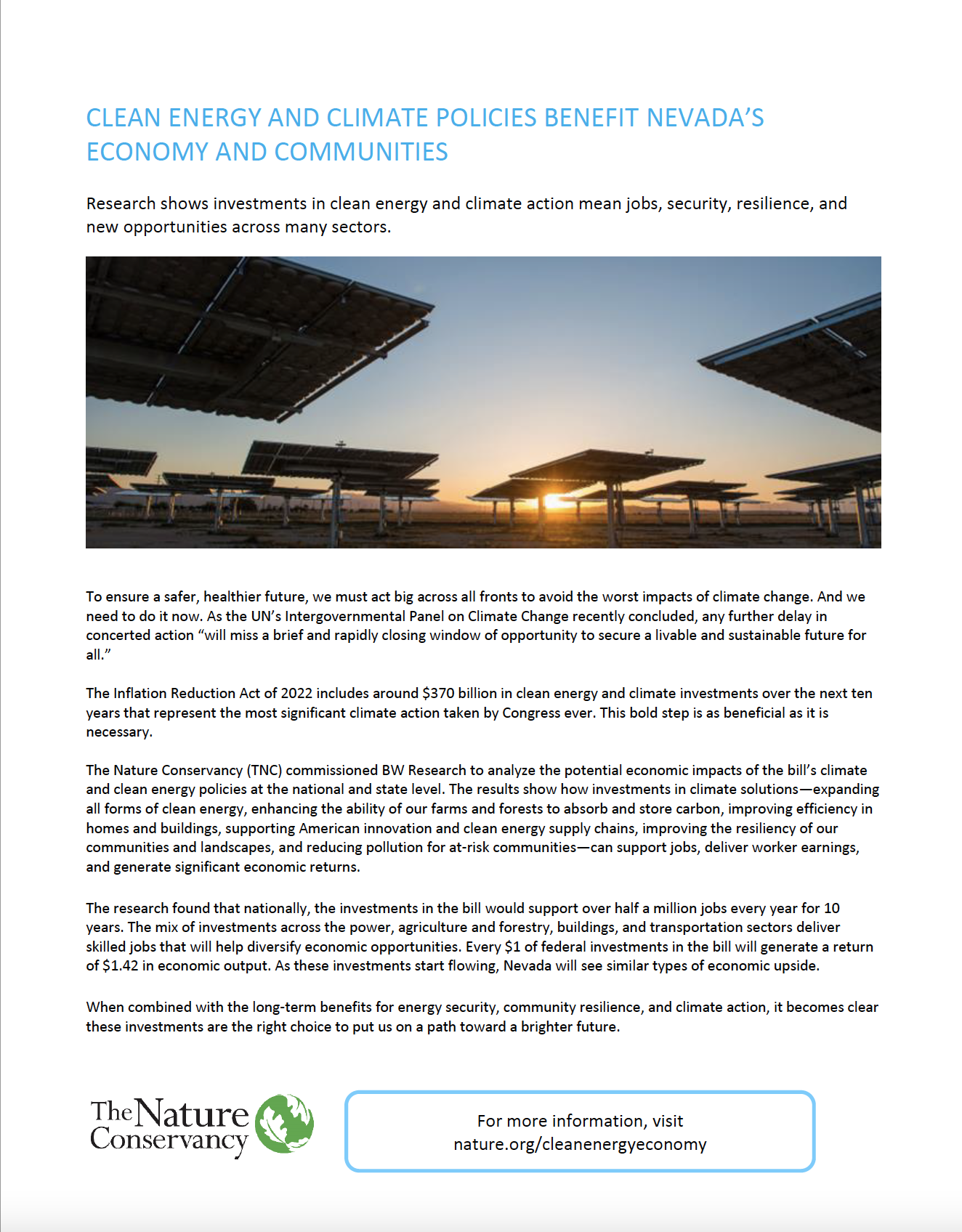 Stay connected for the latest news from nature.
Interesting stories delivered straight to your inbox.
Smart from the Start Renewable Energy Planning
As more states adopt clean energy goals, there will be greater demand for renewable energy. Nevada sits at a crossroads among the Western states, and it is expected that energy infrastructure, both transmission and generation, will grow significantly. If deployed improperly, this renewable build-out could have devastating impacts to Nevada's lands, waters and wildlife.
TNC scientists have modeled future energy scenarios and have determined that with careful planning, we can minimize impacts of energy development to Nevada's natural and working lands. One way to accomplish this is to develop renewable energy on lands that have previously hosted a prior economic use like mine lands, brownfields and landfills. TNC's Mining the Sun Initiative seeks to make it easier to site renewable energy on these land types and published a map tool that demonstrates the renewable energy potential on mine lands and brownfields in Nevada.
There is action we can take right now: By approving enhanced tax credits to encourage development of renewable energy on former mine lands and brownfields, Congress can help revitalize these sites, bring all the benefits of clean electricity to Nevada and ease the pressure to develop renewable energy on prime farmland or valuable natural areas.
Natural Climate Solutions 
Healthy, natural ecosystems can capture and store carbon from the atmosphere. Recent science led by TNC shows that natural climate solutions (NCS)—based on the conservation, restoration and management of forests, grasslands and wetlands—can deliver up to a third of the emission reductions needed by 2030. In Nevada, our forests, rangelands, deserts and sagebrush provide excellent opportunities for natural climate solutions, and TNC scientists are implementing these solutions.
In the Truckee River watershed, TNC is analyzing where stand-replacing wildfire is likely to occur and deploying forest fuel reduction treatments to reduce the threat. A healthy forest sequesters more carbon and is more resilient to catastrophic wildfires that release carbon into the atmosphere. In the Sagebrush Sea, we are working to combat invasive grasses that fuel wildfire with innovative range management and native plant restoration.  
In Nevada, our natural lands can also help to address our climate problems by sequestering carbon dioxide. We recently modeled the carbon sequestration potential of implementing management actions that will conserve our lands. In partnership with the Nevada Division of Natural Heritage and with funding from the U.S. Climate Alliance, our science team mapped the cover of nonnative annual species over 120 million acres across the West and simulated how much it would cost to seed these areas with native species and how much carbon could be stored. They found that 19 million acres of sagebrush shrublands are available for feasible seeding, and more than 8,300 metric tons of carbon per year could be stored in Nevada alone, meaning that seeding degraded sagebrush rangelands to achieve these multiple conservation goals and sequester carbon is worth pursuing. Read the full report here. 
Net Zero Nevada: From Policy to Action 
As Nevada takes action to address climate change and works toward our renewable energy goals, we face challenges and opportunities unique to our local geography and natural resources. We partnered with the Kleinman Center for Energy Policy to explore four custom pathways for achieving net zero carbon emissions in Nevada. Since the research from the University of Pennsylvania was published, TNC in Nevada staff and our partners have been exploring opportunities for renewable energy and carbon capture at Nevada mines, a cement plant and a geothermal facility. We have also received a grant from the ClimateWorks Foundation to continue this research. Read the full report here. 
Net Zero Nevada at a Glance
Net 0

emissions goal for Nevada by 2050

200%

increase in demand for electricity by 2050

4.3-49

metric tons of carbon per year that needs to be captured
Climate Adaptation 
To understand how to best protect nature from the effects of climate change, we must first understand where adequate habitats and migration corridors can be maintained. The Nature Conservancy recently completed a 10-year mapping of resilient, connected landscapes in the United States that identified unique topographies, geologies and other characteristics that make places resilient to climate change. Using this data, we identified several climate adaptation passages in Nevada. These networks of lands and waters in our state are likely to provide refuge for plants and wildlife from drought and heat. To facilitate climate adaptation on the ground, TNC is enhancing and restoring habitat along the Amargosa River. At the 7J Ranch along the Amargosa River, we have planted more than 70,000 native trees, providing vital habitat to birds and wildlife—a refuge from the increasing stress of heat and drought. An additional 30,000 trees will be planted in winter 2022.