Creating Resilient Forests
Michigan's forests provide so many benefits to nature and people, it is vital that we safeguard them.
The northern forests of Michigan are part of a wide swath of forested habitat spanning from northern Ontario to Minnesota. Gray wolf, moose, raptors and songbirds live here, fish swim the pristine rivers, and myriad plant species grow beneath the tree canopy. The forests provide us with clean air, absorb carbon, filter water and provide year-round recreation and tourism opportunities.
Additionally, these forests are a key economic asset for the state of Michigan, as well as thousands of private landowners and local communities, by supporting a forest products sector with an annual value of over $17 billion.
Put simply, Michigan's forests provide so many benefits to nature and people, it is vital that we safeguard them.
During the logging boom in the 1800's, nearly all of Michigan's old growth forests were completely cleared.  And, while much of Michigan's forested land was restored over the last century, our forests are now threatened by invasive species, climate change and unsustainable management practices. 
Research shows that intact, healthy forests serve as a cost-effective and readily available solution to climate change. By safeguarding these forests against threats such as pests, disease, climate change, and development, we are also protecting rare and threatened plant and animal species. 
The Nature Conservancy is Working To:

DEMONSTRATE sustainable forestry and climate-smart restoration practices on our Two Hearted River Forest Reserve
DEVELOP innovative tools such as Key Ecological Attributes and Climate Informed Metrics to inform forest management and measure forest health
PROTECT forested land to connect habitats used by wide ranging and migratory species
INFLUENCE management choices of federal, state, industrial and private forest land owners
Demonstrating Sustainable Forestry
Using sustainable logging practices, we can improve the health and diversity of the forests. We promote sustainable forestry practices, such as selective logging, which involves assessing each individual tree to decide which trees should be cut for the health and diversity of the whole forest.
TNC in Michigan manages a number of its forested lands as working forests, most notably, the Two Hearted River Forest Reserve. Since 2005, the 23,000-acre reserve has served as a "living laboratory" where new science-based techniques in forestry are tested, with the ultimate goals of increased variety of tree species and climate resiliency, while simultaneously helping to support the local timber economy. We are now using the results from this work to demonstrate the economic and ecological viability of sustainable forestry practices in other U.P. forests.
Sustainable Forest Management
Developing Science-based Tools
We support partners in utilizing Conservancy-developed tools such as Key Ecological Attributes (KEAs) and Climate-Informed Metrics (CIMs). These tools help to plan, implement management activities and measure the diversity, health and resiliency of our forests.
KEAS measure the relative health of a timber stand, based on of seven forest attributes. We have developed protocols for measuring KEAs and have put this in place on our working forest lands.
CIMS is a measure of climate sensitivity for a given timber stand that we developed jointly with the Northern Institute of Applied Climate Science. The U.S. Forest Service is now incorporating CIMs into their automated inventory management system.
Protecting Forest Lands
Wide-ranging species such as moose, songbirds, wolves and deer require large, connected blocks of forest to survive and thrive. As we have done historically, we will continue to acquire land and easements assuring healthy, resilient, connected forests for generations to come. We assist both public and private landowners across Michigan's Upper Peninsula to secure lands and easements critical for connecting habitat.
In 2005, TNC, together with multiple partners, completed the Northern Great Lakes Forest Project—a.k.a, the "Big U.P. Deal"— a groundbreaking effort to conserve 271,000 acres located across eight counties in the Upper Peninsula, protecting some of Michigan's most spectacular forests, lakes, rivers and streams. This project was a vast public-private partnership that protected local timber economic activity while protecting quality of life and ecological health across the Great Lakes region. It stands as the largest conservation project in Michigan's history, made possible by the state's leading foundations, the Michigan Natural Resources Trust Fund, the State of Michigan and The Nature Conservancy.
The Northern Great Lakes Forest Project, By the Numbers:

248,000 acres of working forest easements held by the state, assuring sustainable forestry practices while protecting the local tax base. 
More than 52,000 acres of wetlands protected.
23,338 acres acquired by TNC for demonstration of sustainable forestry practices and research.
Approximately 100,000 acres of buffer to various State Forests.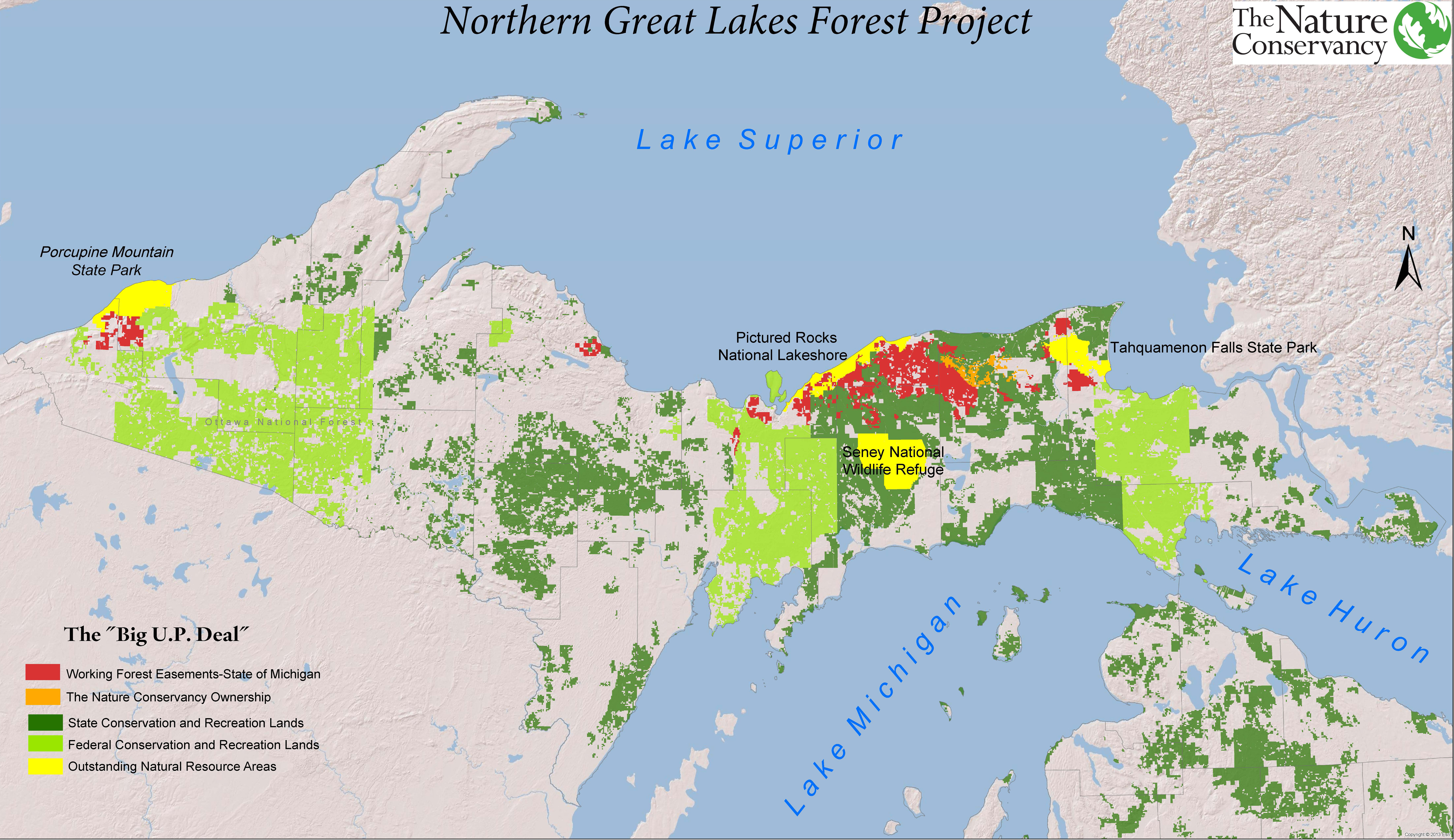 Influencing Management Choices
To improve the health of Michigan's forests, we need to work at-scale across the state. This requires not only practicing sustainable management on our own forested lands, but also influencing the management choices of other forest landowners. We do this in two ways:
Forest Stewardship Contracting: Stewardship Contracting is a powerful tool, created by Congress, to help increase the active management and restoration of National Forests. In Michigan, The Nature Conservancy has entered into a Stewardship Contracting Agreement with the Ottawa National Forest that will use timber sale proceeds to improve the forest's health and restore natural assets in this forest. We are exploring similar agreements with additional National Forests.
Connecting with Private Landowners Through Working Woodlands
To better connect forest landowners with opportunities to be involved in sustainable forestry, the Conservancy created the Working Woodlands program. Through Working Woodlands, landowners receive:
A full forest and carbon inventory
A 10-year forest management plan
Enrollment in Forest Stewardship Council® FSC®-C008922 certification
The full share of Forest Stewardship Council® FSC®-C008922 certified lumber revenues
Access to carbon markets
With Working Woodlands and other similar programs, the Conservancy has enrolled over 200,000 acres worldwide in carbon projects.
This connection with carbon markets is especially critical to the reduction in greenhouse gas emissions required by 2030 to keep global warming below two degrees Celsius. Scientists and economists can quantify the carbon-capturing power of forests, so by retaining these carbon-storing forests, landowners can sell their carbon credits to businesses and individuals seeking to offset their carbon dioxide emissions. Programs like Working Woodlands show that economic benefits and ecological benefits of conserving forests go hand-in-hand.
Additional Resources
Resilient Forests

PDF

Four-page overview of the strategies employed to protect Michigan's forests.

DOWNLOAD