Sea levels in the Chesapeake Bay have risen about a foot in the last century—an alarming rate at more than twice the global average. By 2050, models project that we could see an average of two feet of sea-level rise. With more than 7,000 miles of Atlantic and Chesapeake Bay shoreline, our communities across the state are already dealing with flooding, marsh loss, and saltwater damage to agricultural fields.
Resilient Protection Frameworks
With sea level rise transforming landscapes, TNC is aiming to address the intersection of marsh migration and landowner resilience. Building on the foundation established by the Maryland Department of Natural Resources (DNR), TNC has designed a project to lead marsh protection, coastal management and environmental finance experts in the development of resilient protection frameworks.
The frameworks will update protection easements and management plans to account for the impacts of sea level rise. The goal of these frameworks are to ensure the healthy landward migration of Maryland's tidal marshes while simultaneously preserving the cultural and financial interests of communities and landowners. 
TNC's new $2M partnership with Lockheed Martin is funding the development of the resilient protection frameworks. This generous grant in support of our Resilient Coasts Program is also helping to fund our efforts to strengthen natural ecosystems, engage communities in adaptation planning, and protect 4,000 acres of critical wetlands by 2025.
Studying the Ecological Effects of Sea-Level Rise
Along Maryland's Chesapeake and Atlantic coasts, tidal wetlands act as the first line of defense against storms and rising seas. To better quantify how these natural coastal features reduce the impacts of storm surge, TNC partnered with George Mason University (GMU) and the Maryland Department of Natural Resources (DNR) on a wave attenuation study in 2018.
After collecting data for one year from sensors installed on a Deal Island marsh, we found a striking data point: the first few feet of tidal marsh reduced wave height by up to 90 percent.
The success of our Deal Island wave attenuation study has now led to a three-year grant from NOAA's Ecological Effects of Sea Level Rise (EESLR) Program to study and quantify the benefits of coastal habitats across Maryland's Chesapeake and Atlantic coasts. 
Through this grant we are continuing to work alongside GMU and Maryland DNR to better understand how marshes can mitigate flooding in coastal communities. Results from this new phase of research will help direct protection, restoration and management of the Chesapeake Bay region's coastal habitats to enhance community resilience. The team of TNC and GMU researchers spent several days in the water during summer 2021 collecting data from our three study sites.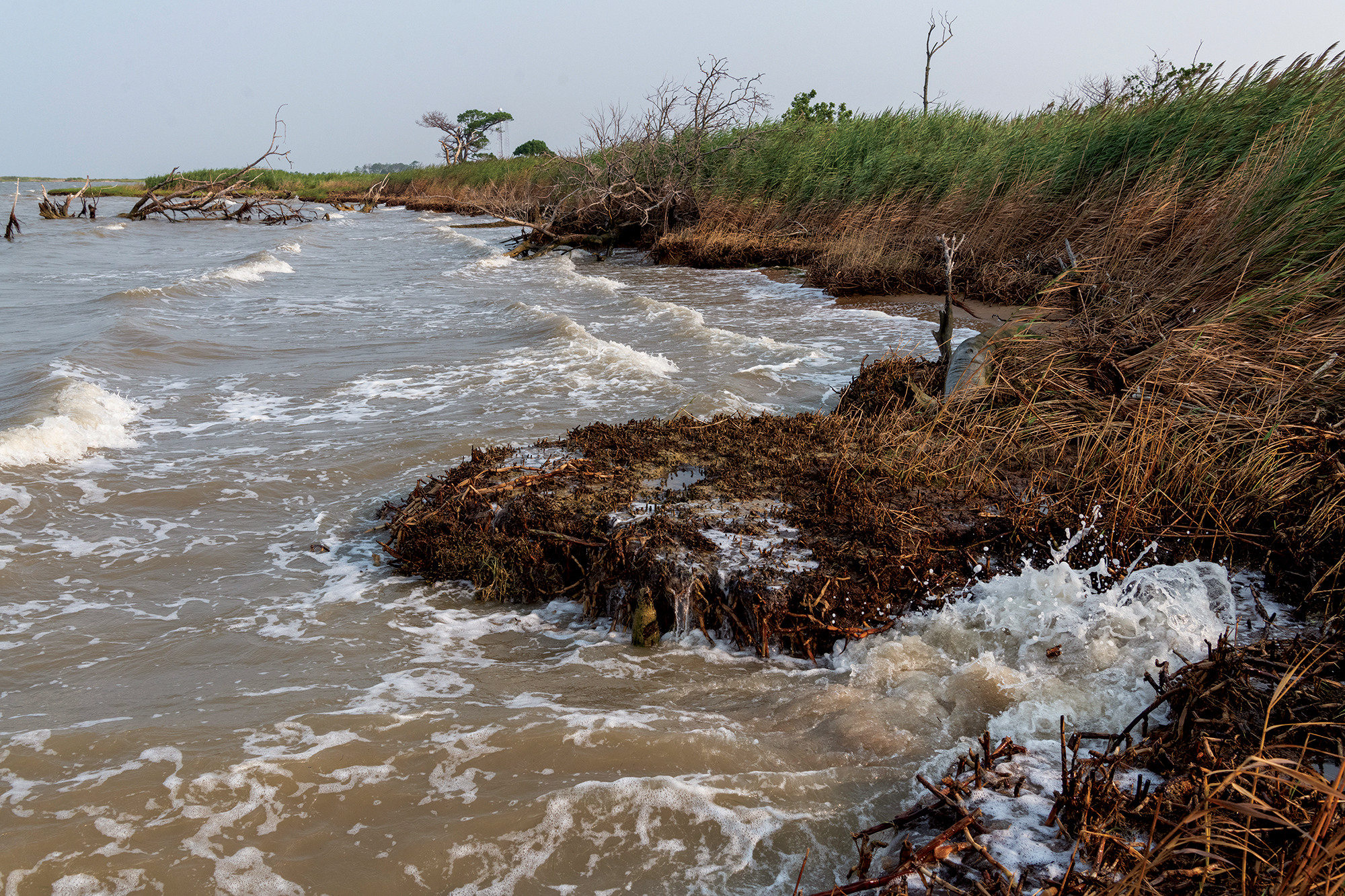 Coastal Invasive
Phragmites, a non-native, invasive plant, grows in wetlands and along roadsides and shorelines, transforming native marsh habitats throughout the Chesapeake Bay watershed.
©
Jay Fleming Photography
Improving Coastal Wetland Management
Grant Funded Restoration
Coastal habitat restoration has traditionally addressed single sources of degradation, such as sea-level rise, erosion, invasive species, etc. However, sites are usually impacted by a myriad of human-caused stressors. To better catalogue all potential sources of marsh degradation, TNC is partnering with experts to develop an innovative marsh management decision framework model, thanks to a one-year grant from the National Fish and Wildlife Foundation (NFWF). With current and projected rates of habitat loss, the Chesapeake Bay can no longer afford to continue business as usual. TNC and our partners will create an innovative decision framework that will help inform holistic tidal marsh management and restoration.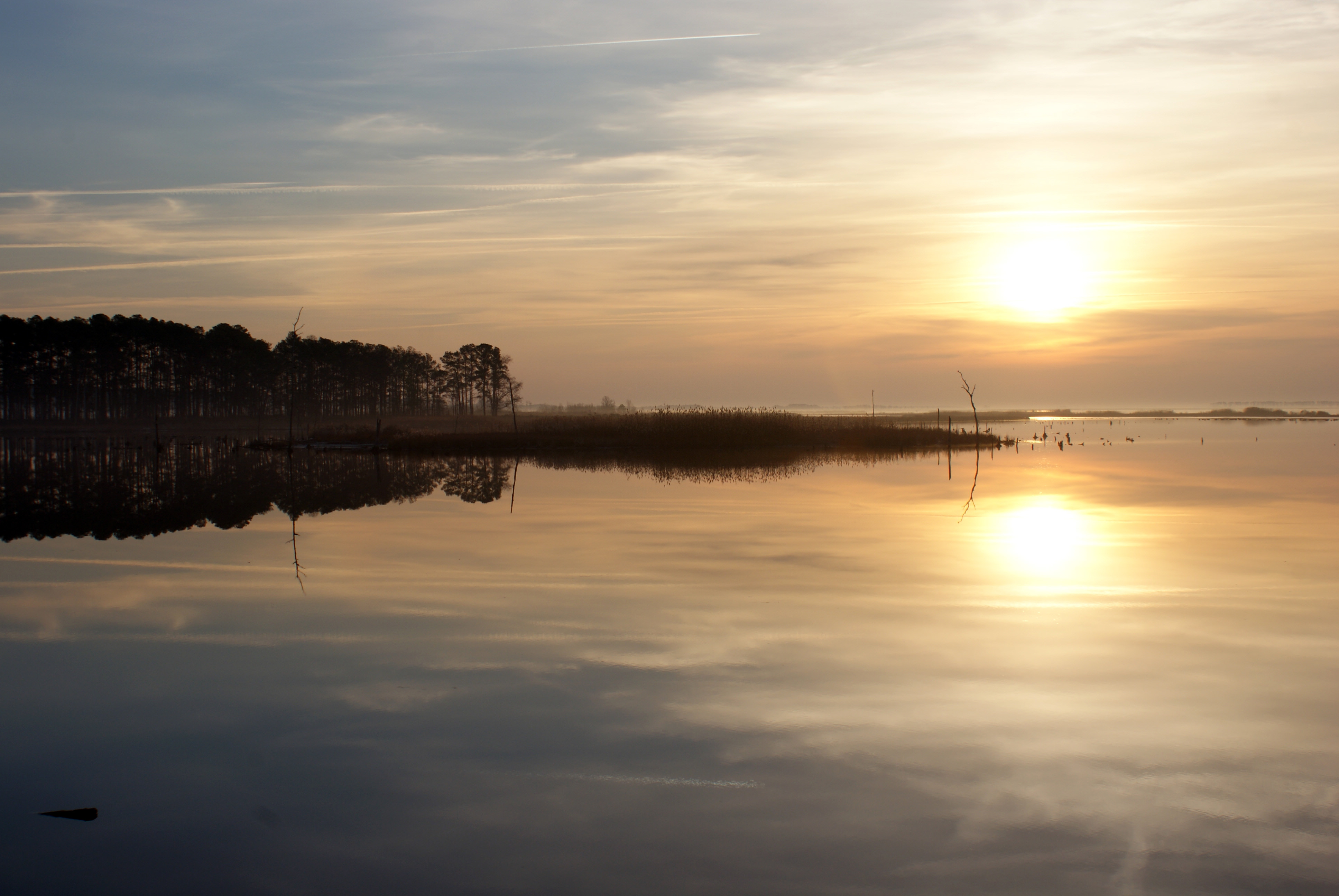 Sunset over Blackwater River
Blackwater National Wildlife Refuge contains one-third of Maryland's tidal wetlands, which provide storm protection to lower Dorchester County.
©
Ray Paterra / USFWS
Protecting Marsh Migration Zones
REPI Challenge
In late 2020, The Atlantic Test Ranges and Naval Air Station Patuxent River were awarded a $3 million grant from the Department of Defense's Readiness and Environmental Protection Integration (REPI) Program to protect land on Maryland's Eastern Shore. The funds will be used to purchase easements on 4,000 acres of land, establishing a resilient and connected marsh migration corridor and preventing incompatible development within the Navy's fly zone. The U.S. Navy will partner with TNC, the U.S. Fish and Wildlife Service and others on the protection effort.
Since the award was announced, TNC has completed a land prioritization mapping exercise to identify the parcels that will provide the highest return on investment for people and nature. With TNC staff working on the ground with landowners, the Maryland REPI partnership is ready to begin the ambitious work of protecting 4,000 acres of critical coastal habitat.
Resilient Coasts Program Factsheet

Helping our coastal communities plan for and adapt to rising seas.

DOWNLOAD

Maryland Coastal Resiliency Assessment Factsheet

The statewide assessment results include a Natural Features Analysis, Community Flood Risk Analysis, Marsh Protection Potential Index, and the identification of Priority Shoreline Areas for conservation or restoration actions.

DOWNLOAD